Celebrem el DENIP amb la plantada d'un Til·ler
News

>

Celebrem el DENIP amb la plantada d'un Til·ler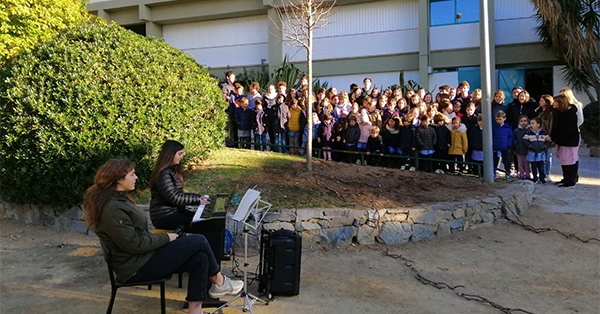 A BetàniaPatmos hem celebrat el DENIP amb, d'una banda, la plantada d'un til·ler com a símbol de connexió amb la història de l'Escola i, d'una altra, amb tot un seguit d'activitats relacionades amb la pau.
Així, al replà de l'Olivera dels Amor, al matí, alumnes de totes les edats, mestres i professors han gaudit de diferents propostes que, a l'entorn del til·ler i d'altres arbres, han tingut com a objectiu promoure la cura de l'entorn natural, la pau i la cordialitat a les aules.
L'acte ha començat a les 9.15 h amb unes paraules d'en Santi Ruiz, professor de biologia, que ha fet una emotiva lectura sobre el que els arbres han representat i representen avui per a la nostra Escola. Alguns alumnes de Batxillerat, d'una banda, han citat Suzanne Simard, professora d'ecologia forestal, per explicar el sentit de l'acte d'avui: la capacitat que tenen els arbres per comunicar-se entre ells; i, d'una altra, ens han ofert una explicació sobre les característiques i les qualitats del til·ler. Tot seguit, acompanyats de música i veu en directe a càrrec d'alumnes de Batxillerat, representants de totes les classes, des d'EI2 fins a 2n de Batxillerat, han unit tots els arbres del voltant amb diferents branques que han dipositat a terra, de manera que han quedat tots connectats simbolitzant la cooperació. Els més petits també han donat a conèixer els seus desitjos en aquesta jornada tan especial: estimar, respectar, abraçar... Per últim, ens hem reunit tots al voltant del til·ler i l'acte s'ha acabat amb unes paraules de reflexió i agraïment de la Lola Goicoa, professora de Batxillerat artístic.
Altres activitats també s'han desenvolupat a les diferents etapes. Pel que fa a Infantil, els petits han decorat els diferents espais de l'Escola amb ocells i globus blancs que representaven la pau; també han gaudit de la representació del conte del Follet Valent, símbol de l'amistat, i han llegit els seus propòsits a l'entorn de valors com l'amor, l'amistat, el respecte. Per últim, han cantat tots plegats la cançó Som amics. Quant a Primària, on la jornada ha girat a l'entorn de quatre grans valors: l'ordre, l'ajuda, la bona educació i la tranquil·litat, els alumnes han assistit a la Sala d'actes a una interessant conferència impartida per Eric Mandle sobre Martin Luther King i la seva lluita per la igualtat. Han acabat la jornada compartint jocs de taula i berenant amb els més petits de l'Escola. A ESO i Batxillerat, la diada s'ha centrat en el debat sobre la necessitat de l'existència de les fronteres i la figura dels refugiats. Els alumnes han realitzat diferents tallers per reflexionar sobre aquest tema tan controvertit i han visionat les pel·lícules The Hundred-Foot Journey i The Little Miss Sunshine com a material de suport a aquesta activitat. També han assistit a una extraordinària conferència d'Ousman Umar, fundador de l'ONG NASCO, dedicada a l'escolarització dels nens de Ghana, qui ha explicat la seva experiència personal en el llarg viatge que va realitzar per arribar des d'Àfrica a Barcelona i tots els perills que lamentablement va haver de patir.
Felicitats a tots per aquesta gran jornada!
31/01/2019