A 1r de Batxillerat participem en l'ASMMUN: fem un pas endavant!
A 1r de Batxillerat participem en l'ASMMUN: fem un pas endavant!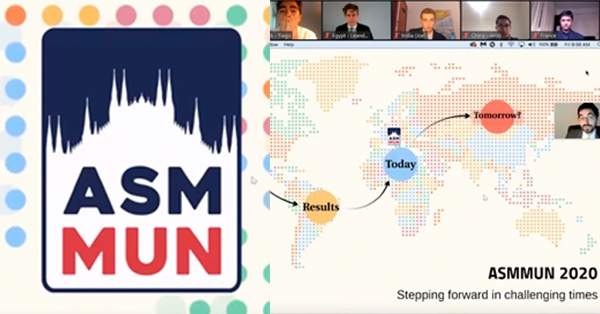 Divendres, 11 de Desembre de 2020
Avui comença l'aventura de participar en un gran fòrum internacional on es debatran durant dos dies intensos les solucions als problemes que afronta el món: acaba de començar l'ASMMUN (American School of Milan Model United Nations)!
Aquest any, per raons òbvies, hi participem en línia, però aquesta situació no està fent que el debat sigui menys enriquidor i interessant. Els nostres deu delegats d'Índia i Finlàndia (alumnes de 1r de Batxillerat) ja han començat a fer lobbying i a aconseguir que altres països signin les seves propostes.
Com ens ha dit Christopher Briner, un dels organitzadors de l'esdeveniment, hem de fer un pas endavant en aquests temps incerts, i els nostres alumnes han començat a fer-lo!
Ens acomiadem de l'ASMMUN
Després d'un primer dia intens de debats i xerrades molt interessants –sobre els reptes de l'educació en aquests temps de pandèmia per part del director de l'American School of Milan, Wayne Rutherford, a l'ECOSOC; sobre la gestió de pandèmies i vacunes a Estats Units per part de Kate Cummings, a l'OMS o una altra amb el títol Minimizing the Impact of Ocean Acidification in International Waters per part de Heath E. Capello, a l'Environmental Committee–, ja hem acabat el segon i últim dia de l'ASMMUN.
Hi ha hagut moltes propostes, apropaments i negociacions de clàusules, i fins i tot han mencionat una aportació d'un dels nostres delegats (felicitats, Joe, has marcat el debat!) a la web de l'ASMMUN.
Gràcies a tots els nostres delegats, que han participat activament als debats i han après molt de la complexitat del món. Ha estat una experiència única que ens dona moltes idees de cara a la preparació del MUNBP que se celebrarà al març de 2021 a l'Escola. Engeguem motors!
11/12/2020