With Group Events, Contest & Sport Competitions
With Group Events, Contest & Sport Competitions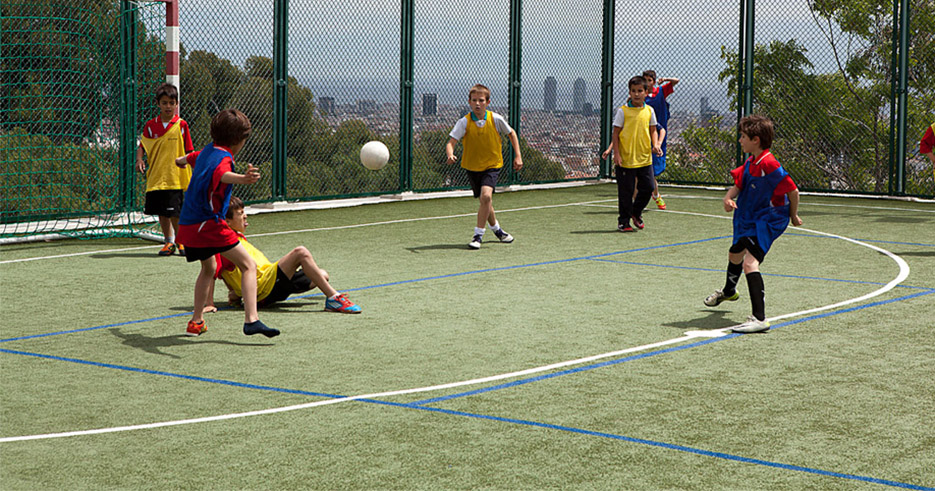 The pupils frequently participate in activities with children from other centres. These meetings come about in all shapes and sizes and in a diversity of situations. After working together on cooperative projects for the best part of a year online with other schools in the Tr@ms association, either through videoconference or email, the pupils organize a meeting where they can eventually see each other in the flesh. It is also not uncommon to receive visits from students abroad who take advantage of their stay in Barcelona to get an insight into a school of prestige.
Musical events are especially emotional as they express the sum of much individual effort made during rehearsals. In this respect, the school participates in two unique experiences, Cantània and the Barcelona Ciutat-Concert festival. Cantània is an activity that was proposed by the Department of Pedagogy of the Auditorium of Barcelona, the Educa Auditorium, aimed principally at pupils from 8 to 12 years of age all over Catalonia, with specific help from other European educational services; the goal is to organize a multitudinous cantata that will become an important and unforgettable musical experience for all concerned. Barcelona Ciutat-Concert is a simultaneous event which transforms the city of Barcelona into more than fifty emblematic sites where you can listen to music of more than three thousand musicians, the boys and girls from BetàniaPatmos being among them.
Contests and sporting competitions are also excellent ways to meet other people and learn about oneself. As mentioned previously, the school competes in various mathematics tournaments, robotics fairs, literary and artistic contests. However, what is especially relevant is the participation in sports events given the extremely dynamic interest in sport within the centre. More than forty teams participate in the numerous football and basketball competitions organized by the Barcelona Sports Council for Schools (CEEB), while many others take part in a popular athletics competition organized each year by the Claror Foundation. The conceptual basis, the team of coaches, constant training and, above all, the fundamental idea that when the pupils of BetàniaPatmos play a sport they must be, more than anything else, polite and respectful, has borne fruit in a spectacular way from both an educational and sporting point of view.